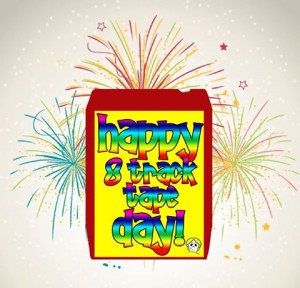 #EightTrackDay - It's April 11th, and you know what that means….it's National 8 Track Tape Day! Celebrate the music format anyway you want, but at 8 Track Shack we're doing what we always do, having a big sale! All of our nearly 60,000 8-tracks are on sale at 50% off regular prices. You only pay half today, but 8 Track Shack still includes pre-shipment refurbishing of all the tapes and guarantees them for life!
But wait….That's not all!  All purchases made today count for full value towards your customer loyalty discount! If you aren't familiar with our customer loyalty program, you can click here to read about 8 Track Shack's Customer Loyalty program. So, for example, if you buy $500 worth of tapes today, you pay only $250, but you earn $500 worth of customer loyalty points. Even if you've never bought anything before, this would mean that you'd save 25% off every order you ever make from 8 Track Shack….forever! This discount is cumulative and your loyalty discount never expires, it just keeps getting better the more you buy. Your existing customer loyalty discount does still apply on all purchases made during the sale too. We only have a few of these sales each year, so today's a good time to stock up on carts.
Throughout the day 8 Track Shack will be having a number of contests, which we will post to the 8 Track Shack Facebook page. Keep checking our Facebook page, the more people that participate, the more we'll give away. Hope everyone has a great 8 Track Day that is free of broken tapes and gummy rollers. If you're looking for 8 Track Tape related things to read and view today, you can use the hashtag #eighttrackday on Facebook or other social media to see what other 8 track fans are posting today.