8 Track Tape Price Guide - How Much is My 8 Track Worth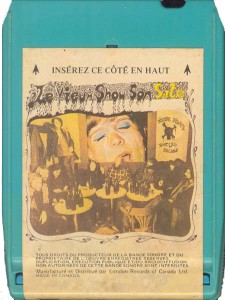 How much is my 8 track tape worth? Here at 8 Track Shack, the world's largest retailer of 8 track tapes, we have nearly 100,000 tapes in stock, and we're always adding more. For tapes not listed in the price guide below, you can visit our online catalog and see what we have certain tapes priced at. See stereo 8 track tapes, see quadraphonic 8 tracks, see sealed 8 track tapes.
How much are 8 track tapes worth? What's the value of an 8 track tape? Those are questions that we here at 8 Track Shack get asked on, literally, a daily basis…..email inquiries, phone calls, people stopping us on the street - we even get letters in the mail! The other day a customer asked why the tape at the left was priced at $275.00 on 8-Track-Shack.com.
If you've never seen it before, don't be surprised. It's more readily available on LP, but other than our one copy, exists seemingly only packed away and forgotten about. You can click on the picture if you haven't seen the label.
OK, see what it's not in every collection?
Below is an attempt to list some of the scarcer and/or more desirable 8 track tapes, with historical prices and info. This was gleaned from a blog from several years ago by an 8 Track Shack employee….some of the links may still point there.
You can search the list using ctrl-f by artist name if it makes browsing for specific artists/titles easier…..enjoy 🙂
8 Track Values
Depending on who you talk to, 8 track tapes can range in value from worthless to legitimate collector's items many of which are worth roughly the same as vinyl records. It's my opinion that they're worth at least a buck a song on average. People pay a buck a piece for mp3's on iTunes and they paid about the same price for one sided 78 rpm shellac records 110 years ago. That isn't to say that every 8 track is going to cost you $8-15 everywhere, but that's a good retail price point.
Current Retail Prices:
Prices today are based largely on two things, scarcity and condition. Sure, you can find a beat Kenny Rogers cartridge at Goodwill for 49¢, but you'll make a hell of a lot of Goodwill runs before you find a quadraphonic Pink Floyd, Dark Side of the Moon. Scarce carts are always going to demand some premium. For common stereo 8 track tapes, the price largely depends on the condition. Foam pads disintegrate, felt pads fall off, pinch rollers get gummy, tape gets wound too tight and sensing foil splices come unstuck. Approximately 95% of tapes that you'll find at yard sales, thrift shops, eBay etc. will need both new pads and a new sensing foil splice to play properly. This is a cheap fix, but it's tricky to do the repair once you've found the materials, so many people would rather just pay a bit more and have a tape that they know is going to work. The current prices for repaired tapes is in the $10-15 range regardless of title.
Quads are More Valuable:
Quadraphonic 8 track tapes have four channels, as opposed to the two on normal 8 tracks. This allowed left and right speakers to be placed in front of the listener and two more placed behind the speaker - think retro surround sound. Quads were more expensive to make, more expensive to buy, required more expensive equipment and were produced for a much shorter time than normal 8 tracks….this makes them harder to find. Their scarcity and, well, general all around coolness makes them a bit more valuable as well.
8 Track Tape Price Guide:
Below is a list of some of the more valuable 8 tracks. I'll update the list from time to time, hopefully on a regular basis. It is by no means an exhaustive list, and probably never will be, but it is fun to see what some of these tapes bring. Another reference for prices on quadraphonic 8 tracks can be found on the Quadraphonicquad Shocker Log page, where they list all the quad recordings that sell for over $100 on eBay.
#
1910 Fruitgum Company: Juciest Fruit Gum - $25
.38 Special: Tour de Force - $40
A
Abba: Arrival (Australian) - $27
Abba: Greatest Hits, Volume 2 - $75
Abba: The Singles - $25
ABC: The Lexicon of Love - $71
AC/DC:
Back in Black - $24 (Sealed - $40)
Flick of the Switch - $32-$40
For Those About to Rock - (Sealed - $36-$76)
High Voltage - $25
If You Want Blood You've Got It - $30
If You Want Blood You've Got It (Sealed) - $50
Powerage - $35
Roy Acuff: Sings Hank Williams for the First Time (Sealed) - $30
Bryan Adams:
Cuts Like a Knife - $25-27
Reckless (Sealed) - $30
Reckless - $44
Aerosmith: Rock and a Hard Place - $35
Alabama: The Closer You Get (Sealed Record Club $30)
Alice Cooper: Life & Crimes (Sealed) - $110
ALive N Kickin': Tighter N Tighter - $27
The Allman Brothers: At Fillmore East (UK Import) - $30
The Allman Brothers: Eat a Peach (Sealed $30)
The Animals: Best of the Animals - $25-30
Kevin Ayers: Joy of a Toy (Sealed) - $65
B
B-52's: Rock Lobster - $50
B-52's: Wild Planet - $30-40
Badfinger: Straight Up - (Sealed - $75)
Bang: Self-Titled - $28
Syd Barrett: The Madcap Laughs - $169
Syd Barrett: The Madcap Laughs - (Sealed - $44-56)
Beach Boys:
The Beach Boys (1980) - $62
California Girls (RCOA Tape) - $104
Endless Summer (Sealed - $85)
Pet Sounds - $50-52-78-85
Surf's Up (Sealed) - $25
Beacon Street Union: The Clown Died on Marvin Gardens - $27
Beatles:
Beatles IV - $26
20 Greatest Hits - $750
1st Live Recordings, Live at Hamburg - $38
A Hard Days Night - $30-$40
A Hard Days Night - (Sealed United Artists - $166)
Abbey Road (Sealed Black Cart) - $32-40
Early Beatles (Sealed Black Cart) - $40
Help (Sealed Black Cart) - $40
Let It Be (Sealed Black Cart) - $40
Love Songs (Sealed Black Cart) - $59
Love Songs (Black Cart) - $30
Magical Mystery Tour - $25 (Sealed - $41-103)
Magical Mystery Tour (Venezuela Import) - $45
Meet the Beatles (Sealed Black Cart) - $40-98
Meet the Beatles (Black Cart) - $32
Revolver (White Cart) - $60
Revolver (Sealed Black Cart) - $41-50
Rock N Roll Music (Sealed in Long Box) - $153
Rock N ROll Music (Sealed Black Cart) - $43
Rock N Roll Music Volume 2 (Sealed Black Cart) - $36
Rock N' Roll Music (2 Tape Set - Sealed) - $150
Rubber Soul (Sealed Black Cart) - $34
Rubber Soul (Black Cart) - $55
Rubber Soul (Sealed Black Cart) - $49
Sargent Peppers Lonely Hearts Club Band (Sealed) - $46
Sergeant Peppers Lonely Heart Club Band (Spanish) - $51
Second Album - $30
Second Album - (Sealed - $40-132)
The Best of the Beatles (Taiwan Import) - $1250
The Blue Album / The Red Album (4 Sealed Tapes) - $50
White Album (2 Tape Box Set) - $45-53
White Album (2 Tape Box Set - Sealed) - $155
Yellow Submarine - $25 / (Sealed $31-$90)
Yesterday and Today (Black Cart) - $50
Yesterday and Today (Sealed Black Cart) - $40
Jeff Beck: Beck-Ola - $30
Bee Gees: Bee Gees Greatest - $46
Bee Gees: Main Course (Sealed) - $53
Bengali Bauls: At Big Pink - $27
Black Sabbath: Heaven and Hell - $45
Black Sabbath: Live Evil - $39-65
Black Sabbath: Paranoid - $30
Black Sabbath: Sabotage - $31-$40
Black Sabbath: Self-Titled - $25-$29
Black Sabbath: We Sold Our Soul for Rock N Roll - $26
Black Sabbath: Volume 4 (Sealed - $51)
Blind Faith: Self-Titled - $34
Blodwyn Pig: Getting to This (Sealed) - $25
David Bowie: Let's Dance - $26
David Bowie: Scary Monsters - (Sealed $25)
David Bowie: Station to Station (Sealed) - $30
David Bowie: The Man Who Sold the World (Sealed) - $50
David Bowie: Tonight - $31
David Bowie: Young Americans (Sealed) - $35
James Brown: Cold Sweat - $30
Bubble Puppy: Gathering of Promises (Sealed) - $175
Budgie: Bandolier - $30
Kate Bush: The Kick Inside (Sealed) - $50
C
John Cale: Fear (Sealed) - $35
The Can: Monster Movie - (Sealed) $85
Captain Beyond: Self-Titled (Sealed) - $48
Captain Beyond: Self-Titled - $32
Captain Sky: Concerned Party #1 (Sealed) - $28
The Cars: Greatest Hits - $41
The Cars: Greatest Hits - (Sealed - $50)
The Cars: Heartbeat City (Record Club) - $50
Otto Cesana: I Recall (Lear Jet Flat Pack - $35)
Otto Cesana: The Velvet Touch (Lear Jet Flat Pack - $35)
Chad & Jeremy: Of Cabbages and Kings (Sealed) - $50
Chad & Jeremy: The Ark (Sealed) - $70
Ray Charles: The Genius of Ray Charles (Sealed) - $45
Cheap Trick: The Latest (2009) - $169
Chicago: IX (Sealed) - $26
Chicago: 17 - $30
Chrysalis: Definition (Sealed $30)
Petula Clark: Downtown (Lear Jet Flat Pak) - $41
The Clash: Combat Rock - (Sealed - $50)
The Clash: Combat Rock - $27
The Clash: Give 'Em Enough Rope - $30
The Clash: London Calling - $30-50-$103
The Clash: Sandinista (2 Tape Set) - $46
Phil Collins: Face Value - $55
Phil Collins: Hello I Must Be Going - (Sealed - $50)
Phil Collins: No Jacket Required - $27
Alice Coltrane: Monastic Trio - $30
Alice Coltrane: Ptah El Daoud (Sealed) - $30
John Coltrane: A Love Supreme (Sealed) - $35
John Coltrane: A Love Supreme - $28
John Coltrane: The Mastery of John Coltrane, Volume IV - $40
Con Funk Shun: Spirit of Love - (Sealed - $70)
Crabby Appleton: Self-Titled - $41
Creedence Clearwater Revival: Cosmos Factory (Sealed) - $30
Creedence Clearwater Revival: Greatest Hits #2 - $52
Creedence Clearwater Revival: More Creedence Gold (UK Import) - $26
Bing Crosby: Merry Christmas (Sealed) - $30
Culture Club: Color by Numbers - $34
Culture Club: Waking Up with the House on Fire - $40
D
Miles Davis: Greatest Hits (Sealed) - $60
Miles Davis: Greatest Hits - $30
Miles Davis: Live Evil - $30
Def Leppard: High N Dry - $51
Def Leppard: On Through the Night - $29
Def Leppard: Pyromania - $25-$30-$45-55
Def Leppard: Pyromania (Sealed) - $100
Devo: Are We Not Men…. (Sealed) - $49
Devo: Duty Now for the Future - (Sealed - $50)
Devo: New Traditionalists - (Sealed - $40)
Dokken: Under Lock and Key (1985) - $52
The Doors: Absolutely Live (Sealed) - $35
The Doors: Alive She Cried - $30
The Doors: Morrison Hotel - $30
Nick Drake: Pink Moon - (Sealed - $210)
Duran Duran: Arena (Sealed 1984) - $60
Duran Duran: Rio - $29-$37
Dust: Self-Titled - $60
Bob Dylan & the Band: The Basement Tapes (Sealed) - $57
Bob Dylan: Bringing It All Back Home (Sealed) - $66
Bob Dylan: Hard Rain (Sealed) - $30
Bob Dylan: New Morning (Sealed) - $35
Bob Dylan: Self-Portrait (Sealed) - $35
E
The Easybeats: Friday on My Mind $40
Brian Eno: Here Come the Warm Jets - $34
Eno: Another Green World - $26
Eternity's Children: Self-Titled (Sealed $30)
Eurythmics: Be Yourself Tonight (Sealed) - $50
Eurythmics: Revenge (Record Club) - $50-69
Eurythmics: Sweet Dreams (Are Made of This) - $50
Eurythmics: Touch - $52
Eurythmics: Touch (Sealed) - $55
F
The Firm: Self-Titled - $30
Flamin' Groovies: Now (Sealed) - $75
Fleetwood Mac: Black Magic Woman - $30
Foreigner: Agent Provocateur - $25 / (Sealed $25)
Four Tops: Second Album (Lear Jet Flat Pak) - $63
Free: Fire & Water - $30
Fugs: Self-Titled - $35
Funkadelic: Cosmic Slop - $34
Funkadelic: Self-Titled (Sealed) - $27
G
Gamma: Gamma 2 - $45
Gasolin': Self-Titled - (Sealed $449)
Marvin Gaye: What's Going On - $50
Marvin Gaye: What's Going On - (Sealed - $63)
Genesis: Trespass - (Sealed $50)
Genesis: Wind & Wuthering (Sealed) - $28-39
Stan Getz: Another World (Sealed) - $35
Benny Goodman: Pure Gold (Sealed) - $39
Eddy Grant: Killer on the Rampage (Record Club) - $50-73
Grateful Dead: Reckoning (Sealed) - $30
H
Sammy Hagar: Standing Hampton - $40
Halfnelson: Self-Titled - $50
Daryl Hall & John Oates: Rock N Soul Part 1 (Sealed) - $40
Johnny Hallyday: Flagrant Delit (Canada Import) - $33
George Harrison: All Things Must Pass (2 Tape Box Set) - $27-55-$100
George Harrison: All Things Must Pass (Sealed 2 Tape Box Set - $85)
George Harrison: Best of George Harrison (Sealed - $40)
George Harrison: Cloud Nine (Sealed 1987) - $302
George Harrison: Concert for Bangladesh (2 Tape Box Set) - $30
George Harrison: Concert for Bangladesh (Sealed 2 Tape Box Set) - $69
George Harrison: Electronic Sounds (Sealed) - $27
George Harrison: Living in the Material World (Sealed) - $45
Coleman Hawkins: Desafinado - $40
Hawkwind: In the Hall of the Mountain Grill - (Sealed - $51)
Hawkwind: Quark Strangeness and Charm - (Sealed - $50-72)
Hawkwind: Self-Titled - (Sealed - $61)
Hawkwind: Self-Titled - $60
Richard Hell: Blank Generation - $50
Jimi Hendrix: Are You Experienced - $25
Jimmy Hendrix & Curtis Knight: Flashing - $29
Jimi Hendrix: In the West (Sealed) - $44
Jimi Hendrix: Nine to the Universe (Sealed $30)
Jimi Hendrix: Smash Hits (Sealed) - $30
Herman's Hermits: The Most of (Australian) - $27
Don Henley: Building the Perfect Beast - $41
Hiltonaires: Beatles Hits in the Glenn Miller Sound (Quad) - $104
John Lee Hooker: Untitled (Sealed) - $28
John Lee Hooker: Never Get Out of These Blues (Sealed) - $30
John Lee Hooker: Never Get Out of These Blues - $50
Lightnin' Hopkins: Sings the Blues - $75
Hourglass: Self-Titled (Sealed - $40)
The Human League: Dare - $32
Dick Hyman: At the Lowrey Organ (Lear Jet Flat Pak) - $27
I
Billy Idol: Rebel Yell - $180 (Sealed / Record Club - $100)
Billy Idol: Whiplash Smile - (Sealed - $106)
Iggy Pop: Soldier - (Sealed - $60)
Luther Ingram: Do You Love Somebody (Sealed $35)
Iron Maiden: Iron Maiden - $175-562
Iron Maiden: Killers - $51-$77
J
Michael Jackson: Bad (Record Club) - $153
Michael Jackson: Got to Be There (Sealed) - $28
Michael Jackson: Thriller (Record Club) - $30-50-510
Jackson 5: ABC - $30
The Jam: This is the Modern World - $60
Etta James: Best of Etta James (Sealed) - $43
Tommy James: The Best of Tommy James & the Shondells - $28-35
James Gang: Yer Album - $25
Jean Michel Jarre: Oxygene - $30
Billy Joel: Greatest Hits Vol. I & II - (2 Tape Set Sealed $50-80)
Billy Joel: Kohuept (Sealed) - $35
Ge0rge Jones: Sings Hank Williams (Autographed) - $60
Journey: Frontiers - $39
Judas Priest: British Steel - $50
Judas Priest: British Steel (Sealed - $60)
Defenders of the Faith - $150
Hell Bent for Leather - $50
Point of Entry - $30
Rocka Rolla - $65-$150 / (Sealed $150)
Sad Wings of Destiny - $130
Judas Priest: Screaming for Vengeance - $34
Sin After Sin (Sealed) - $60
Jose Jose: Cuidado - (Sealed - $45)
Jr. & Co.: Suddenly One Summer (Sealed $30)
K
Chaka Khan: I Feel for You - $39
The Kinks: A Complete Collection - $30
The Kinks: Greatest Hits - $30
Kiss: Ace Frehley (Sealed) - $32-45
Kiss: Alive (Sealed) - $25-$50-64
Kiss: Alive II (Sealed) - $60
Kiss: Animalize (Record Club) - $100-123-153
Kiss Animalize (Sealed) - $200-203
Kiss: Destroyer (Green Cart) - $31
Kiss: Dressed to Kiss (Sealed) - $25
Kiss: Dynasty (Sealed) - $46
Kiss: Gene Simmons (Sealed) - $45
Kiss: Hotter Than Hell - $27 (Sealed) $72
Kiss: Kiss - $30-$70
Kiss: Love Gun (Sealed) - $35
Kiss: No Kissin Time - $41
Kiss: Peter Criss (Sealed) - $60
Kiss: Rock N Roll Over - $35
Kiss: Rock N Roll Over - (Sealed - $50)
Kiss: Music from the Elder - $68-88
Kiss: The Originals (2 Tape Set) - $60-$280
Kiss: Unmasked - $25-40
Evel Knievel: Self-Titled - $53
The Knowbody Else: Self-Titled - (Sealed $50)
Kraftwerk: Autobahn (Sealed / Record Club) - $35-70
Kraftwerk: Autobahn (UK Import) - $46
Kraftwerk: Radioactivity - $31-42
Kraftwerk: Ralph & Florian - $40 (Sealed - $60)
Kraftwerk: The Man Machine - $30
Kraftwerk: Trans-Europe Express - (Sealed $56)
Kraftwerk: Trans-Europe Express - $40
Krokus: Hardware - $60
Krokus: The Blitz - $60
L
La Mafia: Electrifying - $30
La Mafia: Self-Titled - $30
Cyndi Lauper: She's So Unusual (Record Club) - $50-90
Vicky Leandros: Dreams are Good Friends - $29
Led Zeppelin: Coda - $106-227
Led Zeppelin: Houses of the Holy - $25
Led Zeppelin: Houses of the Holy - (Sealed - $43)
Led Zeppelin: In Through the Out Door (Sealed) - $50
Led Zeppelin: Led Zeppelin II - (Sealed - $52)
Led Zeppelin: III - $25 / (Canadian Version $30)
Led Zeppelin: Physical Graffiti (Australia Import) - $50
Led Zeppelin: Physical Graffiti (Sealed) - $30
Led Zeppelin: Physical Graffiti - $32
Led Zeppelin: Presence - (UK Import - $56)
Led Zeppelin: Presence (Sealed) - $30
Led Zeppelin: Zoso (Sealed) - $50
John Lennon: Imagine (Sealed) - $66
John Lennon: Live in New York City - (Sealed - $110)
John Lennon: Mind Games (Sealed) - $52
John Lennon: Sings All the Great Rock & Roll Hits - Roots - $673
John Lennon / Yoko Ono: Unfinished Music No. 1, Two Virgins -$75
John Lennon / Yoko One: Unfinished Music No. 2 (Sealed) - $27
John Lennon: Walls and Bridges (Sealed) - $40
Huey Lewis & the News: Fore - $35
Huey Lewis & the News: Sports - $28
The Limeliters: Tonight in Person (Lear Jet Flat Pak in Original Case) - $49
Little Anthony & Imperials: Greatest Hits (Lear Jet Flat Pak) - $41
Love: Forever Changes - $33
Lynyrd Skynyrd: Pronounced… - (Sealed $60)
Lynyrd Skynyrd: Second Helping (Sealed) - $30
Lynyrd Skynyrd: Street Survivors (Flame Label Sealed) - $50-60-100-$219
M
Madonna: Like a Virgin (Record Club) - $60-70-100
Madonna: Like a Virgin (Sealed) - $225
Madonna: True Blue - $50-115-$150
Madonna: True Blue (Sealed) - $195
Madonna: You Can Dance - $275
Madonna: Who's That Girl Soundtrack (Sealed) - $154
Malcolm X: Message to Grass Roots - $27
Mamas & Papas: If You Can Believe Your Eyes and Ears (Lear Jet Flat Pak) - $70
Phil Manzanera / 801: Live - (Sealed $25)
Bob Marley & Wailers: Babylon by Bus - $25
Bob Marley: Birth of a Legend - $70
Bob Marley & Wailers: Exodus - $25-$30
Bob Marley & Wailers: Live (Sealed) - $40
Bob Marley: Natty Dread - $62
Bob Marley & Wailers: Rastaman Vibration - $25
Bob Marley & Wailers: Soul Captives - $25
Matching Mole: Little Red Record - $27
MC5: High Time - $30
Paul McCartney: Band on the Run (Sealed) - $46
Paul McCartney: McCartney - (Sealed $25)
Paul McCartney: McCartney II (Sealed) - $26
Paul McCartney: Red Rose Speedway - $26 / (Sealed - $34)
Paul McCartney: Wild Life - $31
John Cougar Mellencamp: American Fool (Sealed $30)
John Cougar Mellencamp: Scarecrow (Sealed) - $40
Melvins: Live at Slims (Limited Edition) - $262
Men at Work: Business as Usual - $43
Modern Jazz Quartet: Space (Sealed) - $42
The Monkees: Best of the Monkees, 20th Anniversary - $55
The Monkees: Headquarters (w/ Case) - $89
The Monkees: Greatest Hits - $40-50
The Monkees: More of the Monkees (Lear Jet Pak) - $215
The Monkees: Pisces, Aquarius, Capricorn & Jones Ltd (w/ case) - $244
The Monkees: Self-Titled (Lear Jet Pak) - $65-215
The Monkees: Self-Titled (Lear Jet Pak w/ Case) - $171
The Monkees: The Birds, The Bees and the Monkees - $35
Chris Montez: The More I See You… - $34
Motley Crue: Shout at the Devil - $60 / (Sealed) $130
N
Nazz: Self-Titled (w/ Sleeve) - $40
New York Dolls: Self-Titled - $29-256
New York Dolls: Self-Titled - (Sealed - $80)
New York Dolls: Too Much Too Soon - $35-$50
Night Ranger: Midnight Madness (Sealed) - $50
Nortronics Alignment Tape Cartridge - $100
Ted Nugent: And Amboy Dukes - $30
Gary Numan: The Pleasure Principle (Sealed $32)
O
Billy Ocean: Love Zone - $30
Donny Osmond: A Time for Us (Sealed) - $28
The Osmonds: Crazy Horses (Sealed) - $28
The Osmonds: The Plan (Sealed) - $28
Ozzy Osbourne: Bark at the Moon (1983) - $190-$301
Ozzy Osbourne: Blizzard of Oz - $40
Ozzy Osbourne: Diary of a Madman - $30-$166
Ozzy Osbourne: Speak of the Devil (Canadian Import) - $150
P
Ray Parker Jr.: Chartbusters - $36
Parlet: Invasion of the Booty Snatchers (Sealed) - $35
Parliament: Motor Booty Affair (Sealed) - $50
Parliament: Osmium - (Sealed - $75)
Tom Petty: Southern Accents - $42
Wilson Pickett: Best of - $30
Pidgeon: Self-Titled - $31
Dave Pike: Doors of Perception - $30
Pink Floyd: A Collection of Dance Songs - $26-35
Pink Floyd: A Nice Pair - $40
Pink Floyd: Animals (UK) - $30 / (Sealed $70-105)
Pink Floyd: Animals (US) - $30-32
Pink Floyd: Atom Heart Mother - $29
Pink Floyd: Atom Heart Mother - (UK Import Quad - $160-317)
Pink Floyd: Dark Side of the Moon - $26-$40
Pink Floyd: Dark Side of the Moon (Sealed) - $77
Pink Floyd: Dark Side of the Moon (UK Import) - $53
Pink Floyd: Dark Side of the Moon (Portugal Import) - $43
Pink Floyd: Obscured by Clouds - $30-$41
Pink Floyd: Piper at the Gates of Dawn - (Italy Import - $100)
Pink Floyd: Relics - $39
Pink Floyd: Saucerful of Secrets - $70
Pink Floyd: The Wall (Sealed) - $47-$80
Pink Floyd: The Wall - $25-35
Pink Floyd: Ummagumma (Sealed) - $73
Pink Floyd: Wish You Were Here - $40-54
Pink Floyd: Wish You Were Here (Sealed) - $77
Robert Plant: The Principle of Moments - $26
The Police: Every Breath You Take - $69
The Police: Every Breath You Take (Sealed) - $41
The Police: Ghost in the Machine (Sealed) - $27
Power Stations: Self-Titled - $33
Elvis Presley: Blue Hawaii / Pot Luck (Lear Jet Pak w/ Case) - $245
Elvis Presley: Elvis for Everyone - (Sealed w/ cardboard pic sleeve - $70)
Elvis Presley: Elvis' Gold Records - (In plastic case $120)
Elvis Presley: Elvis' Gold Records, Volume 4 - (w/ case - $89)
Elvis Presley: Girl Happy Soundtrack - $30
Elvis Presley: Frankie and Johnny (Sealed) - $260
Elvis Presley: Harum Scarum (Lear Jet Flat Pack w/ Orig. Case) - $225
Elvis Presley: His Hand in Mine - (In plastic case $51)
Elvis Presley: How Great Thou Art / His Hand in Mine - (w/ plastic case - $220) / (w/ cardboard pic sleeve - $76)
Elvis Presley: Sings Songs of Christmas - (w/ case $82)
Elvis Presley: Worldwide 50 Gold Award Hits Vol. 1 (Box Set) - $185
Billy Preston: That's the Way God Planned It (Sealed $31)
The Pretty Things: S.F. Sorrow - $40
Prince: Around the World - $27-70
Prince: Dirty Mind - $56-200
Prince: For You (Sealed) - $70
Prince: Parade, Music from Under the Cherry Moon - (Record Club - $69)
Prince: Purple Rain - $48-81
Prince: Self-Titled - $32
Q
Queen: A Night at the Opera - $42
Queen: Flash Gordon Soundtrack (Sealed) - $50
Queen: News of the World (Sealed) - $38
Quiet Riot: Condition Critical - $50
Quiet Riot: Metal Health (Record Club) - $61
R
The Radha Krsna Temple: Self-Titled (Sealed) - $30
Rainbow: Difficult to Cure - $27
Rainbow: Down to Earth (Sealed) - $43
Rainbow (Ritchie Blackmore's): Live on Stage - $29
Rainbow: Long Live Rock N Roll - (Sealed $25)
Rainbow: Rainbow Rising - $29
Bob Ralston: Red Roses for a Blue Lady (Lear Jet Flat Pak in Case) - $27
Ramones: Leave Home - (Sealed $25-46-125)
Ramones: Road to Ruin - $30
Ramones: Road to Ruin - (Sealed $40-50-105-125)
Ramones: Rocket to Russia (Sealed) -$55
Ramones: Rocket to Russia - $51
Ramones: Self-Titled - $32-61
Rare Bird: Self-Titled - $32
Red Rider: As Far as Siam - $25
Lou Reed: Berlin (Sealed) - $29
Lou Reed: Metal Machine Music (Sealed / Quad) - $150
The Righteous Brothers: Soul & Inspiration (Lear Jet Flat Pak) - $59
Riot: Fire Down Under - $80-$129
Riot: Narita - $172
Rodriguez: Coming from Reality (UK Import) - $200
Rolling Stones: Dirty Work - (Sealed $57)
Rolling Stones: Exile on Main Street (Sealed) - $80
Rolling Stones: Exile on Main Street (w/ Pic sleeve) $30
Rolling Stones: Exile on Main Street (UK) - $25
Rolling Stones: Let It Bleed (Sealed) - $40
Rolling Stones: Milestones (UK) - $25
Rolling Stones: Out of Our Heads - $25
Rolling Stones: Out of Our Heads (Lear Jet Flat Pack) - $51-68
Rolling Stones: Out of Our Heads (UK Import) - $50
Rolling Stones: Rock N' Rolling Stones (UK) - $25
Rolling Stones: Self-Titled (Sealed - $35)
Rolling Stones: Self-Titled (UK Import) - $38
Rolling Stones: Sticky Fingers (Import) - $50
Rolling Stones: Stones - $38
Rolling Stones: Their Satanic Majesties Request (Sealed) - $40
Rolling Stones: Their Satanic Majesties Request (Lear Jet Flat Pack) - $189
Rolling Stones: Through the Past Darkly - $38
Roxy Music: Self-Titled - $25
Roxy Music: Stranded (UK Import) - $30
The Runaways: Waitin' for the Night - $40
The Runaways: Untitled Bootleg - $40
Rush: 2112 (Sealed) - $43
Rush: A Farewell to Kings - $28
Rush: Caress of Steel - $30
Rush: Fly By Night - $30
Rush: Hemispheres - $29
Rush: Self-Titled - $45
Rush: Signals - $25-29 / (Sealed $52)
S
The Saints: (I'm) Stranded (Sealed) - $75-120-150
Sam the Sham & the Pharaohs: The Best of - $45
Sapphire Thinkers: Self-Titled (Sealed $30)
Savoy Brown: Blue Matter - $25
Scandal: Warrior - $25
Peter Schickele: The Wurst of P.D.Q. Bach (Quad) - $90
Scorpions: Blackout - $30
Love at First Sting - $30-$50
Fly to the Rainbow - $30
Taken by Force - $60
Bob Seger System: Mongrel - $30
Ramblin' Gamblin' Man - $35
Sex Pistols: Never Mind the Bollocks - $28-31-46
Sex Pistols: Never Mind the Bollocks - (Sealed - $75)
Sonny Sharrock: Black Woman (UK Import) - $75
Silver Apples: Self-Titled - $35
Jeff Simmons: Lucille Has Messed My Mind Up - $30
Frank Sinatra Jr.: Spice (Sealed) - $40
Siouxsie & the Banshees: The Scream - $56
Sir Lord Baltimore: Self-Titled (Sealed) - $30
Sir Lord Baltimore: Self-Titled - $67
Slade: Sladest - $32
Frank Sinatra / Antonio Carlos Jobim: Sinatra Jobim - $4500-6000
Patti Smith: Horses - $40
Smoke Rise: The Survival of St. Joan - $25
Sparks: A Woofer in Tweeter's Clothing (Sealed) - $30-$80
Spits: Self-Titled - $30
Splint Enz: True Colours - $40
Spiral Starecase: More Today Than Yesterday (Sealed $35)
The Spits: Self-Titled (Sealed $30)
Bruce Springsteen: Born in the USA - $27-$36 / (Sealed - $50-65)
Bruce Springsteen: Greetings from Asbury Park (Sealed) - $65
Bruce Springsteen & The E Street Band "Live 1975-85" 3 8-Track tape Box Set 1986 Columbia 3A2 7767 - $103-$185
Bruce Springsteen: The River (Sealed) - $30
Lucille Starr: The French Song - $45
Ringo Starr: Blast from Your Past (Sealed) - $40
Ringo Starr: Goodnight Vienna (Sealed) - $45
Ringo Starr: Ringo (Sealed) - $55
Ringo Starr: Sentimental Journey (Sealed) - $77
Ringo Starr: Stop and Smell the Roses (Sealed) - $30
Jim Steinman: Bad for Good - (Sealed $25)
Cat Stevens: Greatest Hits (Sealed) - $38
Stooges: Fun House - $150
Stooges: Fun House - (Sealed - $143-400)
Stooges: Self-Titled - $67-90-100-$138
The Stranglers: Black and White - $46
Strawberry Alarm Clock: Good Morning Starshine - $25
Strawberry Alarm Clock: Sea Shell - $27
Barbra Streisand: People (Sealed) - $59
Sugarhill Gang: Self-Titled - $50-700
Yma Sumac: Miracles - $45
Donna Summer: Once Upon a Time - (Sealed $25)
T
T. Rex: Bolan Boogie - $30
T. Rex: The Slider (Sealed UK Import $30)
T. Rex: Wild Swan (Sealed $30)
T. Rex: A Beginning (Sealed) - $45
Talking Heads: 77 - $31
Talking Heads: More Songs About Buildings and Food (Sealed) - $40
Talking Heads: Speaking in Tongues - $42
Talking Heads: Stop Making Sense - $76-103
Tammi Terrell: Irresistible (Sealed) - $25
Tangerine Dream: Ricochet (Sealed) - $30
Television: Adventure - $23
Television: Marquee Moon - $23
Television: Marquee Moon - (Sealed - $50)
Thin Lizzy: Self-Titled - $36
Thirteenth Floor Elevators: The Psychedelic Sounds of the Thirteenth Floor Elevators (Listed as sealed, actually factory reseal) - $400
Thompson Twins: Into the Gap - $30
Toto: Isolation (Sealed) - $30
Doris Troy: Self-Titled (Sealed) - $30
Tommy Tutone: 2 - $30
U
U2: Rattle and Hum (Sealed) - $300-371
U2: The Joshua Tree - $135
U2: The Unforgettable Fire - $500
U2: The Unforgettable Fire (Sealed) - $350
U2: Wide Awake in America - $450
UFO: Mechanix - $30
UFO: Phenomenon - $25
Ultravox: Vienna - $207
V
Van Der Graaf Generator: Godbluff (Sealed) - $103
Van Der Graaf Generator: World Record - $35
Van Halen: 1984 (Record Club) - $30-37-$50
Van Halen: 1984 (Sealed Record Club - $51)
Van Halen: 5150 - $50-70
Velvet Underground: Highlights of 1969, Live - $40
W
Bunny Wailer: Blackheart Man - $30
Tom Waits: Nighthawks at the Diner (Sealed) - $52
Tom Waits: Small Change - $114
Elyse Weinberg: Elyse - $32
Bob Weir: Ace (Sealed) - $30
Whitesnake: Love Hunter - $52
The Who: Meaty Beaty Big & Bouncy (UK Import) - $30
The Who: Tommy (Sealed) - $40
Wind in the Willows: Self-Titled - (Sealed - $54)
Wings: London Town (Sealed) - $33
Wings: Mars and Venus (Sealed) - $40
Wings: Wings Over America: (Sealed) - $47
Wire: 154 - $37
Roy Wood: Mustard (Sealed) - $40
Richard Popcorn Wylie: E.S.P. (Sealed $36)
X
X
Y
Yardbirds: Live with Jimmy Page - $50
Yardbirds: Self-Titled - $40
Yes: 90125 - $28-41
Dwight Yoakam: Self-Titled - $34
Z
Frank Zappa / Mother of Invention: Freak Out! - $62
Frank Zappa: Freak Out - $32
Frank Zappa: Tinsel Town Rebellion - (Sealed $25)
Frank Zappa / Mothers: Uncle Meat - $45-50
ZZ Top: Afterburner - $28
Deguello - $30
Eliminator (Sealed) - $45
First Album - $30
Rio Grande Mud (Sealed) - 30
Zombies: Odessey & Oracle - $35
ZZ Top: Eliminator - $28
Soundtracks
American Graffiti - $332
Dukes of Hazzard - $28
Dumb & Dumber (1994) - $100
Easy Rider (Sealed) - $26
Flash Gordon Soundtrack / Queen (Sealed) - $50
Girl Happy (Elvis Presley) - $30
Ghostbusters - $32
Return of the Jedi - $26
Saturday Night Fever (Sealed) - $30
Smokey and the Bandit - $56-90
Smokey and the Bandit 2 - $40
Vision Quest Soundtrack - $28
Vision Quest (Sealed) - $175
Who's That Girl (Sealed) - $154
The Wiz Soundtrack - $50
Smokey & the Bandit - $27
Car Demo Tapes

1967 Ford Demo Tape (PC8S 185) - $290
1966-67 Ford Thunderbird Car Demo Tape (PC8S 206) - $621
1966-67 Ford Family of Fine Music Demo Tape (PC8S 500) - $383
1966-67 A Family of Fine Music Ford Demo Tape (PC8S 203) - $280
1967-68 Music of the USA Chevy Demo Tape (PC8S 501) - $256
1968 Plymouth, Chrysler, Imperial Demo Tape - $83
1968 Pontiac Car Demo Tape - $45
1969 Cadillac Demo Tape - $70
1968-69 The Sound of Stereo Chrysler Car Demo Tape - $105
1969 Chevrolet Demo Tape (PC8S536) - $125-135
1969 Music of the USA Vol. II Chevy Demo Tape (PC8S 536) - $115-$256-$265
1969 AMC Car Demo Tape - $30
1970 Buick '70 Presents The Happy Sound Demo Tape - $43
1970-71 Chevrolet Introduces Concert Sound Stereo Demo Tape - $150
1970-71 Pontiac The Surrounding Sound of Stereo (PC8S 553) Demo Tape - $65
1971 Oldsmobile Introductory Demo Tape - $50
Oldsmobile Variety Concert Volume IV - $80
1971 AMC Car Demo Tape - $30
1972 AMC Car Demo Tape - $30
1972 Pontiac Stereo 8 Track Sound for 1972 Car Demo Tape - $41
1973-74 Pontiac Demo Tape - $200
1974 Cadillac Across the Wide Country Car Demo Tape (Sealed) - $30
1975 AMC Car Demo Tape - $30
1976 Cadillac Contemporary Sound Car Demo Tape (Sealed) - $40
1977 Chevrolet Demotape Car Demo Tape - $55
1977 Concert Sound Stereo GM Demo Tape - $100
American Motors Presents the American Sound Demo Tape (DPS2-0169) - $50
Oldsmobile Variety Concert in Stereo (No Cat #) - $383
Oldsmobile Variety Concert in Stereo (PC8S 503) - $305
Various Artists / Compilations
American Graffiti Volume 1 - $26
East Side Story Volume 7 - $33
East Side Story Volume 8 - $33
K-Tel: Masters of Metal - $125
Nuggets - $35
Original Folk Blues Detroit Blues - $35
Smokey and the Bandit - $25
Steppin Out, Disco's Greatest Hits - $41
The Wiz Soundtrack - (Sealed -$50)
Woodstock Soundtrack (Sealed) - $30
2XL Robot Tape
Storyland - $76